Mario Kart 8 Sells 1.2 Million Worldwide over its first weekend
I was expecting good numbers from Mario Kart 8, but I did not expect to be this good. Nintendo has announced that Mario Kart 8 has SOLD (most likely shipped) 1.2 million copies worldwide (America's, Europe and Japan) over its first weekend.
Reggie is fairly optimistic about the Wii U future, saying the Wii U's best days are "still ahead." Reconfirming Nintendo's commitment, to turn the fortunes of the console around Reggie says more future games are to be announced at E3.
"This year's E3 is just days away, and it will be all about the future games for Nintendo platforms. This milestone is a great place to start!"
Nintendo has also confirmed that the series has hit over 100million in sales, which equates to 14 million units for each entry.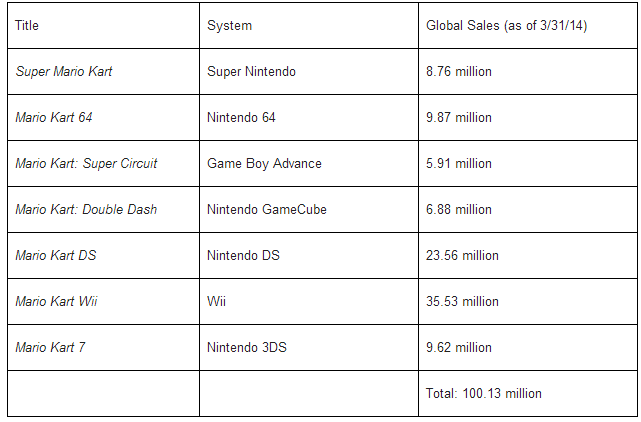 The real litmus test for Mario Kart 8 is how long the game can give the Wii U positive momentum into the holiday season. I suspect Nintendo will have some incredible titles to compliment Mario Kart 8 and Super Smash Bros For Wii U.
Source: Nintendo Everything, Vgchartz