Rumor: A second Mega evolution for Mewtwo and Mega Garchomp confirmed?
The latest issue of Coro Coro magazine may have revealed a second mega evolution of Mewtwo and confirmed a Mega Evolution for Garchomp. The cover of the Magazine reveals two Pokemon that resembles Mewtwo and Garchomp but in Mega form.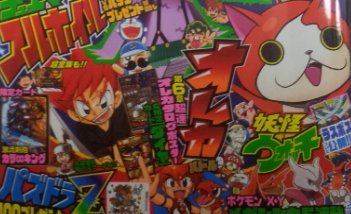 If you look at the bottom right corner you can see a Mewtwo like Pokemon and a Mega Garchomp. According to the leaker the new Mega Mewtwo will be a dual Psychic/Fighting Pokemon. In addition, the Mega Garchomp will have the ability Sand Force (which raises the power of Rock, Ground and Steelt type moves by 30% in sandstorms) instead of his usual ability Sandveil. Until we have official confirmation this is still a rumor.
Tbone51 from Vgchartz has provided me with more screenshots from Coro Coro magazine. Check them out.