The Wii U is back Baby! Media Create Japan Sales (Dec. 9 – Dec. 15)
Coming as a surprise – the Wii U has a gotten a large bump in sales – no doubt due to the holiday Season peaking and Nintendo's aggressive marketing strategy. For the week – 74,903 Wii U's were sold. For comparison sakes last week numbers were 48,242.
As expected the 3DS has topped the hardware charts with the Wii U coming in second. It is rather disappointing that the Vita still has not picked up.
3DS LL – 130,710
Wii U – 74,903
3DS – 50,846
Vita – 30,440
PS3 – 23,959
PSP – 6,475
Vita TV – 5,506
Wii – 1,197
Xbox 360 – 536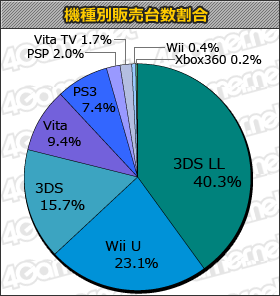 In terms of software Puzzle & Dragon Z for the 3DS debuts at number 1 with 543,630 units sold. Pokemon and Mario are showing their incredible legs at number 2 and 3 respectively. What I find fascinating is that most of the software in the top 30 are either on the 3DS or Wii U.
Source: VGCHARTZ
Order
Model
Title
Manufacture name
Release Date
Unit sales


total

number
Reader Reviews
One

Pazudora

Z
Gung Ho Online Entertainment
13/12/12
543,630
543,630
Two
Pokemon X / Y (including version included)
Pokemon
13/10/12
159,244
3,360,163
72
Three
Super Mario 3D World
Nintendo
13/11/21
57,862
241,107
80
Four
(Including Limited Edition) Nobunaga's Ambition and creativity
Tecmo Koei Games
13/12/12
54,590
54,590
Five
Tsubasa giant of humanity – the end of the march
Spike CHUNSOFT
13/12/05
42,311
135,782
75
Six
Call of Duty ghost (dubbed version)
Square Enix
13/12/12
37,519
37,519
Sixty
Seven
(Limited Edition, including version included) Gran Turismo 6
SCE
13/12/05
37,306
242,090
Sixty
Eight
Inazuma Eleven GO Galaxy Big Bang / Super Nova
LEVEL-5
13/12/05
30,517
122,160
Nine
(Including version included) Monster Hunter 4
Capcom
13/09/14
27,921
3,030,279
76
Ten
(Including version included) and Animal Crossing Tobidase
Nintendo
12/11/08
26,409
3,522,987
72
Eleven
(Including version included) Tomodachi Collection new life
Nintendo
13/04/18
22,189
1,545,717
Twelve

Aikatsu

! My princess

two

NAMCO BANDAI Games
13/11/21
18,415
117,675
13
(Including version included) One Piece Unlimited World Red
NAMCO BANDAI Games
13/11/21
17,906
141,280
14
(Including version included) Disney Magic Castle My Happy Life
NAMCO BANDAI Games
13/08/01
17,628
350,022
Fifteen
(Including version included) New Super Mario Bros. 2
Nintendo
12/07/28
15,128
2,158,254
78
Sixteen
World Soccer Winning Eleven 2014
KONAMI
13/11/14
15,058
243,425
17
Luigi Mansion 2
Nintendo
13/03/20
15,051
958,510
80
18
Lightning Final Fantasy XIII Returns
Square Enix
13/11/21
14,837
373,592
82
19
(Including Limited Edition) Hatsune Miku Project

mirai

2
SEGA
13/11/28
14,566
121,499
79
Twenty
~ John if master Taiko Wii U

!

(Including version included)
NAMCO BANDAI Games
13/11/21
13,980
51,436